Finally It's The Season!
Friday, March 05, 2010
It feels as though 'festival season' starts this weekend. Usually I think of it as ending in late October around Kentuck, and beginning again in early March with the Jerry Brown Festival. Here's what's going on this weekend:
In Georgia: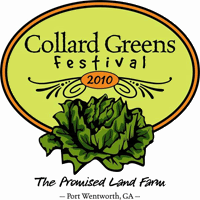 Collard Green Festival in Port Wentworth (close to Savannah) - celebrating the final harvest and reseeding of the greens at Promised Land Farms.
In Mississippi:
In Alabama:
---and where we'll be---