It's Here...It's Time...It's *So* Good!! Oh, And Mules.
Friday, September 25, 2009
Today and tomorrow is the Greek Food Festival downtown Birmingham at the Holy Trinity - Holy Cross Greek Orthodox Cathedral. This is one of those must-do food festivals because it is just the very, very best...you guessed it...Greek food.
We'll be going later to get souvlakia (lamb kebabs), pasticho / pastichio, and homemade baklava. Every bit of it is homemade - nothing brought in - and they even sell big pans of pasticho you can bring home for the freezer that will feed 9-12 people.
This is my pasticho at last year's festival: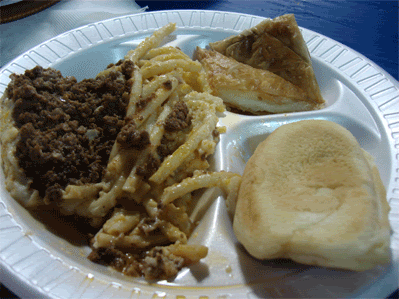 They have their cathedral open for people to view also - just beautiful.
---
This weekend is
Mule Day
in Winfield, Alabama. Ah, I just have to show the pic above because we gave Shug a bunch of these
Schleich
animals from the
Feed and Seed that the McEwens have
in Wilsonville (they're the nice people that mill the organic grits and cornmeal, etc.), and I explained to Shug that donkeys especially like to be in pairs, that they would much rather be with a friend than alone. Well, he has since *always* kept donkeys and mules together when he plays with them! Such a sweet little heart he has.
Tomorrow from 10a-5p is the annual Quilt Walk in Collinsville, and the Antique and Apple Festival in Moulton (8483 Hwy 157). Hmmm...