Framing Handed Down Recipes
Sunday, September 14, 2008
The September issue of Southern Living had an idea in their "Get Inspired" feature about framing cherished family recipes, so I thought that would be a perfect way to enjoy some of Av's grandmother's recipes even more. *Plus* some are in her handwritten script so that makes it even more special to have. Av and I got together and chose three recipes from the box that was handed down to us: Gramma Honey's melt-a-ways, her Passover brownies, and Alma's recipe (Alma was a lady that worked for her for years & years) for biscuits.

Materials:
frames
handed down recipes
scrapbook paper for a background if the frame opening is larger than the card
medium for attaching card to scrapbook paper (I used plasti-tak, which is repositionable and removable forever)





Directions:
The openings in my frames were a little bit bigger than the cards - on purpose so I could use a pretty paper backing - so I used scrapbook paper for backgrounds. I just cut them the same size as the frame's original insert: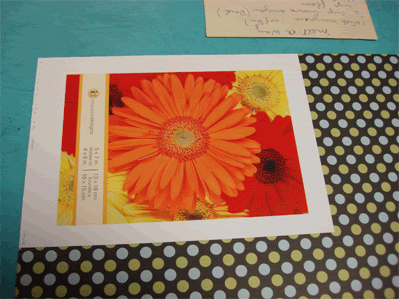 Found the center, then joined the card to the paper: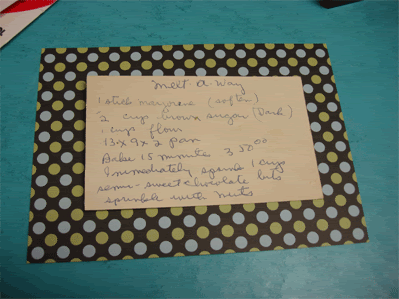 Loaded it into the frame: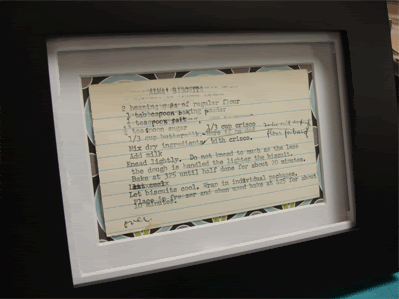 ...and here they are: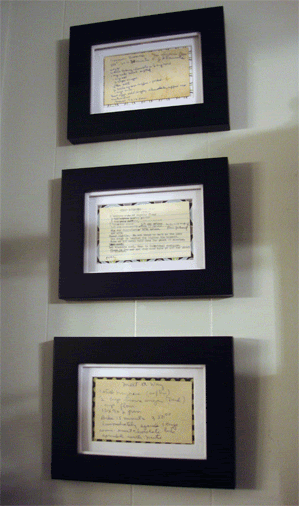 Love this! Now they're not hidden away in the recipe box, and they're also convenient to have around. I'll post the recipes a little later in the week, but Av likes this idea already I'm sure, because it will remind me to make Gramma Honey's yummy chocolate melt-a-ways more often!