Tumbleweeds
Sunday, August 26, 2007
About five years ago, Av had a convention in Denver, so we decided rather than fly, we would drive there so we could see and do more. When we were in Dumas, Texas Av 'caught' a tumbleweed. We figured 'how many people in Alabama have a tumbleweed?' - and it's hung in the stairway ever since: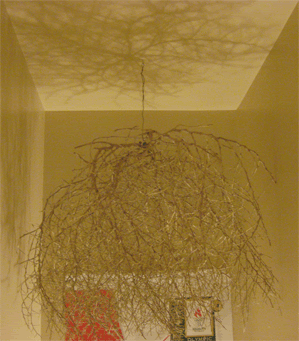 In "Fashion Fall 2007" there's an article about entertaining in Dallas and San Antonio, and they feature a tumbleweed serving as a chandelier.

I love that idea! I was thinking how neat it would be to put one in the fireplace and hang some pretty lights from it. If it was done right, it would look great. I'm kind-of opposed to the idea of paying for a tumbleweed but there's actually a company that will ship them anywhere (a large one is $25). It would be more fun to drive out to Texas and catch another one, though...