Wintzell's Oyster House, Mobile AL
Thursday, March 08, 2007
When we were coming back home from the coast, we stopped in Mobile for lunch at Wintzell's, one of my favorite places in there (we also like Brick Pit, The Pillars, Nan Seas (which closed! Couldn't believe it. They had the best West Indies Salad!!), Dew Drop Inn (Jimmy Buffett grew up on their hamburgers), and Pollman's bakery). There's lots of other great places in Mobile, but for a quick lunch, Wintzell's is great and has lots of atmosphere.

See the sign on the right in this pic below? It has the names of the all-time oyster-eating champions. At the top of the sign, it reads:
"Wintzell says he will not be held responsible for any after effect, that is: belly ache, hospital fees, or any charges, criminal or otherwise arising from any attempt at the championship."

Right now the men's champion is "Big Joe" Evans, who ate 31 dozen oysters in 2003, and the women's champion is Beth Carter Larrimore, with 16-1/2 dozen.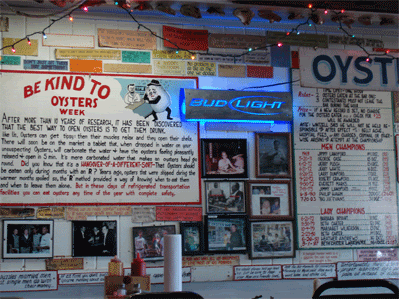 The restaurant has sayings from the original owner, J. Oliver Wintzell (who I think everybody just called 'Wintzell') all over the walls: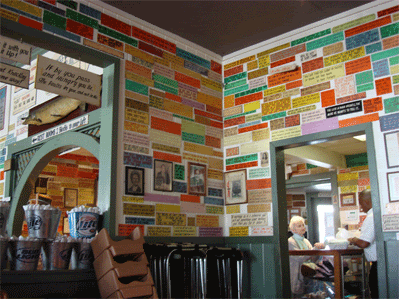 Here's Av, with a cup of gumbo:



Wintzell's has four or five other locations, but I love this original one downtown and we've never tried any of the others. One thing I noticed on the menu this time was that they are now serving charbroiled oysters! I wonder if they're anything like the ones at Drago's, where charbroiled oysters got started...