Chocolate Pecan Pie
Thursday, March 15, 2007
Last night I made a chocolate pecan pie (that's what Av decided he wanted) for Pi Day. It turned out *really* nice.

Ingredients - this is enough to fill a deep-dish pie crust:

Deep-dish pie crust (or make your own)
Enough pecan halves to cover bottom of pie crust completely
1/3 cup Hershey cocoa
4 large egg yolks
1/3 cup Karo syrup
1/2 cup light brown sugar
1/2 cup white sugar
4 tbsp unsalted butter
1/4 cup heavy cream
pinch salt
1 tsp vanilla
handful of chocolate baking chips (I used Ghirardelli)

Directions:

Preheat the oven to 350*

In a small saucepan, I combined the cocoa, egg yolks, Karo, white and brown sugar, butter, heavy cream, salt, and baking chips (stirring the whole time) over low heat. This needs to cook about five minutes, until it is hot to the touch but never boiling. Once it's hot and combined, take it off the heat and add the vanilla: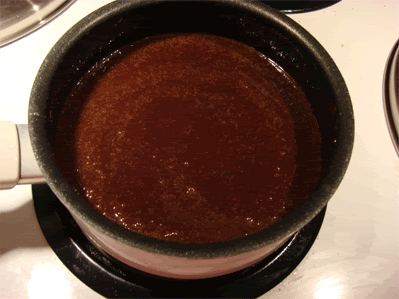 In the meantime, the pecans go in the bottom of the pie crust, then when the chocolate mixture is ready to come off the stove, it's poured right into the crust, over the pecans: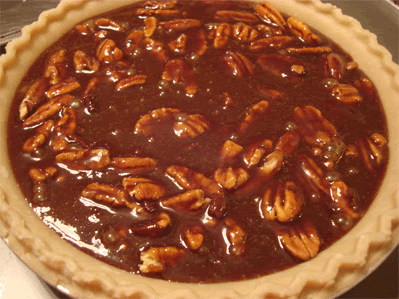 In the beginning, I put a sheet of foil over the pie to keep it from browning too much in the oven - the foil was removed for the last twenty minutes of baking.

I started checking for doneness at 25 minutes, but it took about 50-55 minutes before it was set enough to come out of the oven: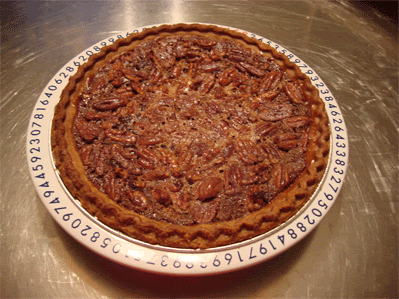 ...and here's a slice...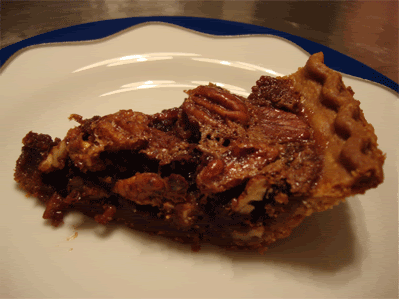 Yum! We each had a slice last night and I can't wait to give the rest of it to friends for them to try. BTW, my recipe for bourbon pecan pie ran in the Houston Daily Journal in Perry, Georgia - they are supposed to be sending me a couple of copies of the paper so I can see!

This coming Saturday is St. Patrick's Day (last night our grocery store had all kinds of candies/cookies/cakes out for parties) - and people start putting up their altars (more pics here and here and a great story about preparing for it here) for St. Joseph's Day this weekend. We're not Catholic but I would *love* to go to New Orleans this weekend just to see some of them. Some restaurants even put them up. There's a partial list here and here of altars that are open, and the parades are this weekend...hmmm.....